The Australasian College of
Toxicology & Risk Assessment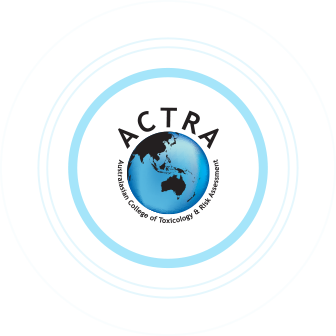 ACTRA Committee and Sub-Committees
ACTRA Committee
President: Peter Di Marco
Vice-President: Gordon Reidy
Treasurer: Andrew Harman
Secretary: Tarah Hagen
Membership Officer: Ian Delaere
Ordinary Members: Lorraine Webster
Ordinary Members: Antti Mikkonen
Note: Under rule 21 of the ACTRA Constitution, the Committee has power to co-opt members to various co-ordinating roles.
ACTRA Sub-Committees
Names of Committee heads listed below
Marketing & Communications: Tarah Hagen
Education: Antti Mikkonen and Lorraine Webster
Governance and Finance: Andrew Harman
Membership: Ian Delaere
Registration: Ian Delaere
ASM 2019: Tarah Hagen and Roger Drew
Note: If an ACTRA member is interested in voluteering on one of the ACTRA sub-committees, please forward your interest to the ACTRA Secretariat secretariat@actra.org.au who will put you in touch with the appropriate committee member.
We would like to thank John Frangos (Vice President and Education Sub-Committee Chair) and Len Turczynowicz (Ordinary Member) for their invaluable contribution to ACTRA during 2018.