The Australasian College of
Toxicology & Risk Assessment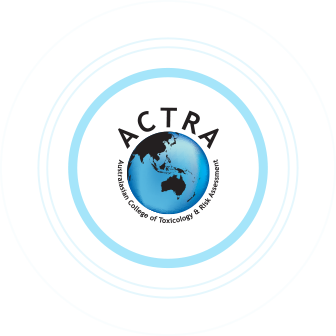 Membership of ACTRA is open to those working in the fields of toxicology and risk assessment. All members receive electronic newsletters and subsidised meeting or workshop registration fees and access to the members only area of the ACTRA website. This section includes copies of past meeting abstracts and workshop presentations, as well as access to information on continuing education courses relevant to your field.
Financial members of ACTRA may apply for Professional Registration. Registrants are recognised for their professional excellence, competence and knowledge meeting the standards required to be included on the public list of registered professionals.
| Membership Type | Price (incl GST) |
| --- | --- |
| Registrant/Fellow Member (Aus) | $220.00 |
| Full Member (Aus) | $165.00 |
| Student Member (Aus) | $55.00 |
| Emeritus Member (Aus) | $55.00 |
| Registrant/Fellow (Int) | $200.00 |
| Full Member (Int) | $150.00 |
| Student Member (Int) | $50.00 |
| Emeritus Member (Int) | $50.00 |
The annual fees are in Australian Dollars (AUD) and are as follows:
How to Join
To apply for membership, please complete the online membership application form.
You will need to submit the name of a current member who supports your application, a full CV, which includes qualifications (with details of institution and year of conferment), and your experience/interests in toxicology and risk assessment or related disciplines.
Applicants will be advised of the outcome within 5 business days of submitting your application. All benefits of membership will apply until otherwise notified.