The Australasian College of
Toxicology & Risk Assessment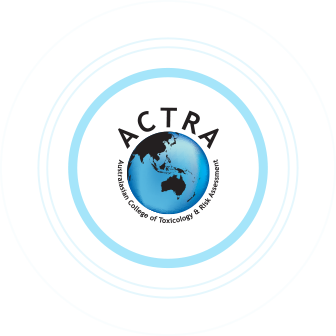 ACTRA Registration
Registration
An important objective in establishing ACTRA was to initiate a process whereby the professional standing and credentials of Australian and New Zealand toxicologists and risk assessors could receive some type of formal, peer-reviewed recognition. In furtherance of this objective, the ACTRA membership resolved at their 2007 Annual General Meeting to establish a professional Register of Toxicologists and Risk Assessors.
Please click here to download the registration application form*
Note: The typing function has been enabled on our registration PDF so it can be completed without printing. All you need to do is click on the typewriter symbol on the top of the form and then click where you would like to begin typing.
If you have any questions through out the process, do not hesitate contacting our secretariat on (03) 9895 4451 or our Registration Membership Officer, Effi Liden on Email: secretariat@actra.org.au.
The Register
The Register is published on a publicly accessible page on the ACTRA website. It includes the name, qualifications and contact details of members of ACTRA who have satisfied the requirements of the Fellow or Registrant.
Entry to the Register
Eligibility for entry to the Register is limited to financial members of ACTRA who make a specific personal application for listing. Applications require a submission outlining educational and professional experience and evidence of professional recognition. A points system, similar to that used by other Scientific Societies (e.g the British Toxicology Society), is used to establish eligibility (see attached registration application form), but ultimate eligibility for listing will be determined by a Listing Tribunal, comprised of a sub-panel of the ACTRA Membership Committee, supplemented by at least two distinguished international toxicologists.
Listing Review
To maintain currency of status, it is necessary for eligibility to be reviewed on a regular basis. This review occurs every 5 years. An important component of this review is evidence that the Member has engaged in approved continuing education programs. Dates of initial listing and further reviews are included on the Register.
Registration Application Fees
In order for your registration to be accepted by the panel an application fee of $100.00 is required with each Registration submission. Please enclose your payment details in your application form or alternatively contact the ACTRA Secretariat for further information secretariat@actra.org.au
Registration Renewal Fees
Once your registration has been accepted you will be registered for a term of five years from the date your application is accepted. In order to keep your registration current please ensure your ACTRA membership is up to date and you have paid your annual Registration renewal fee. Details can be found below:
ACTRA membership renewal Fee: Please see the membership page for ACTRA membership fees
How to renew your registration online
Your RACTRA / FACTRA renewal fee will be included in your membership renewal fee for 2022/2023. Follow the steps on the Manage My Membership page for details.
Re-Registration
In December 2020, the ACTRA Board established the ACTRA Reregistration Handbook, the process by which those enrolled on the Professional Register will be evaluated for reregistration.
The Handbook establishes the ACTRA Registration Subcommittee, describes three performance criteria used to evaluate reregistration (e.g. Active Practice, Continuing Education and Maintenance of Expert Knowledge in Nominated Specialties) and sets out fees and deadlines for submission of reregistration applications.
ACTRA Reregistration Handbook (Mar 2021)
Please email re-registration applications to the ACTRA secretariat: secretariat@actra.org.au
For further information about the re-registration process, please also contact the ACTRA secretariat: secretariat@actra.org.au