The Australasian College of
Toxicology & Risk Assessment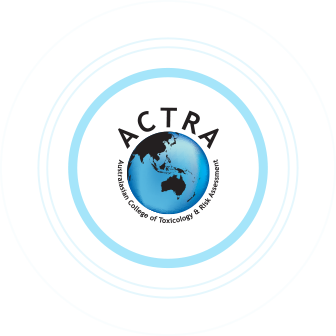 Acknowledgement of country
• We in ACTRA acknowledge the Traditional Custodians and their Ancestors of the unceded lands and waters across Australia where we conduct the business of the society.
• We also respectfully acknowledge their Ancestors and Elders, past, present and emerging.
---

ACTRA Webinar Series with Q&A – Session #24
Topic: "Outdoor air pollution and cancer"
Date: Thursday 1st December 2022
3:00PM – 4:00PM AEDT (Melb/Syd time)
Presenter: John Frangos
REGISTER HERE
---
Vale Robert McKenzie
It is with great sadness that we inform you of the passing of Robert McKenzie. Robert passed away on Friday 30th September 2022. He has been an important and vibrant member of ACTRA and has made valuable contributions to the organisation for a long time. He was a kind-hearted and wonderful man and will be dearly missed.
He will be farewelled and celebrated this Thursday 6th of October from 12-4pm at Welcome to Thornbury – the Greenhouse, 520 High Street, Northcote VIC 3070.
Please advise if you will be attending by confirming via the following link: https://events.humanitix.com/robert-mckenzie-s-last-hurrah.
It will also be live-streamed for those interstate wishing to pay their respects.
There is also a memorial card which you can access and sign via the same link.
Please RSVP by Tuesday October 4 to assist with catering and seating plans.
---

---
Message from the ACTRA President
Please click on the following link to view a message re COVID-19 from the ACTRA President, Paul Wright:
VIEW MESSAGE
---
Want to be updated about future events?
---
Job Listings
Find the latest information about positions vacant via our new Job Listings page.
View the ACTRA Job Listings Page
---
Membership with ACTRA
The Australasian College of Toxicology and Risk Assessment Inc (ACTRA) has been established since July 2006.
ACTRA aims to:
advance the study and applications of toxicology and health risk assessment as professional scientific disciplines, and
cultivate (and maintain) the highest standards of professional practice and ethics in persons engaged in the sciences of toxicology and health risk assessment.
Membership of ACTRA is open to those working in the fields of toxicology and risk assessment. All members receive electronic newsletters and subsidised meeting or workshop registration fees.
View the ACTRA Membership page.
---
Registration with ACTRA
An important objective in establishing ACTRA was to initiate a process whereby the professional standing and credentials of Australian and New Zealand toxicologists and health risk assessors (HRAs) could receive some type of formal, peer-reviewed recognition. In furtherance of this objective, ACTRA has established a professional Register of Toxicologists and HRAs.