The Australasian College of
Toxicology & Risk Assessment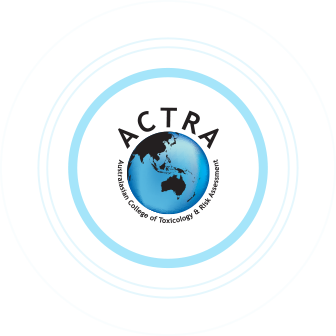 Annual Scientific Meeting & Continuing Education Day 2018
Registrations are now open for the 11th Annual ACTRA Annual Scientific Meeting and Continuing Education Day 2018, to be held in Perth, Western Australia. Group and student discounts are available.
Meeting Focus

Particulate matter (PM) is a pollutant of international and national concern with many studies reporting adverse health effects associated with different size fractions.  We regulate based on the size of particles, but the physical and chemical composition of the particles may be as important to adverse health effect as the inhalable size fractions.  There is no known threshold for exposure to PM and studies are showing that chemical components may be more important drivers of effects. Different sources have different PM characteristics and indicator compounds, yet this is rarely considered when undertaking risk assessments.
 
This conference will address characterising particulate matter based on size and composition, the application of in vitro toxicity methods, the emerging health and toxicology studies focussing on composition and how we undertake risk assessments that include multiple sources, estimation of doses and exposures.  
Please note that CASANZ, RACI and AIOH members are eligible to register at ACTRA member rates (select member when registering online and you will be prompted to select either ACTRA, CASANZ, RACI or AIOH membership). 

Event Partners
Membership with ACTRA
The Australasian College of Toxicology and Risk Assessment Inc (ACTRA) has been established since July 2006.
ACTRA aims to:
advance the study and applications of toxicology and health risk assessment as professional scientific disciplines, and
cultivate (and maintain) the highest standards of professional practice and ethics in persons engaged in the sciences of toxicology and health risk assessment.
Membership of ACTRA is open to those working in the fields of toxicology and risk assessment. All members receive electronic newsletters and subsidised meeting or workshop registration fees. View the ACTRA Membership page.
---
Registration with ACTRA
An important objective in establishing ACTRA was to initiate a process whereby the professional standing and credentials of Australian and New Zealand toxicologists and health risk assessors (HRAs) could receive some type of formal, peer-reviewed recognition. In furtherance of this objective, ACTRA has established a professional Register of Toxicologists and HRAs. View ACTRA Registration page.