The Australasian College of
Toxicology & Risk Assessment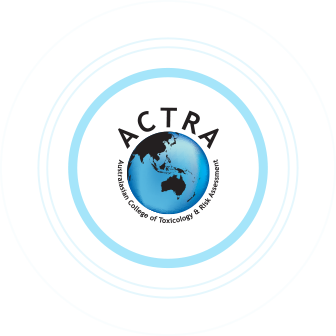 Acknowledgement of country
• We in ACTRA acknowledge the Traditional Custodians and their Ancestors of the unceded lands and waters across Australia where we conduct the business of the society.
• We also respectfully acknowledge their Ancestors and Elders, past, present and emerging.
---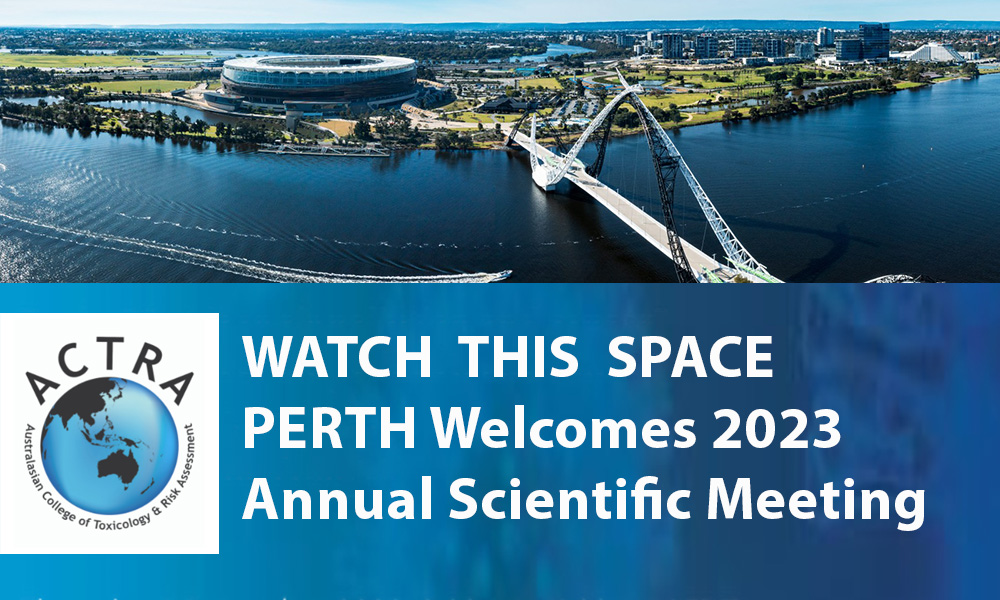 ---
UPCOMING WEBINARS

ACTRA is pleased to present this webinar on "Risk communication for PFAS – Learnings from community events for high profile sites" by Ruth Jarman (RACTRA), on 2 March 2023.
ACTRA Webinar Series with Q&A – Session #26
Topic: "Risk communication for PFAS – Learnings from community events for high profile sites"
Date: Thursday 2nd March 2023
3:00PM – 4:00PM AEDT (Melb/Syd time)
Presenter: Ruth Jarman (RACTRA)
REGISTER HERE
---
Vale Dr Kerry Nugent
It is with great sadness that we inform you of the passing of Kerry Nugent.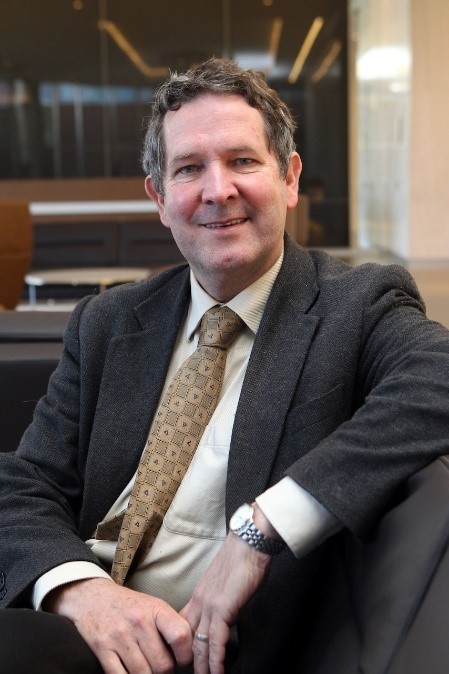 We are saddened to advise that Dr Kerry Nugent passed away on the 29th of December 2022.
Kerry is survived by his wife Dr Carolyn Dillon.
Dr Kerry Nugent, the Principal Scientist and colleague, worked for many years at the Australian Industrial Chemicals Notification Scheme (AICIS, formerly NICNAS), and is well known especially to toxicologists. He represented AICIS at the Chemical Scheduling Committee and brought his chemical and toxicology expertise to deal with complex chemicals.
Kerry was a much-esteemed toxicologist, scientist, and mentor for many in the Australian regulatory science world. He was much admired for the scientific and regulatory quality of his work.
ACTRA acknowledges his contributions to the society and his mentorship to many.
"Having a mentor like you in the workplace is a gift. I have always admired you for who you are. Saying goodbye is the hardest thing to do."
A highlight over the last few years was Kerry relaxing in zoom meetings with his cats on his lap.
May you rest in peace our dearest Kerry.
Funeral details:
Date: Wednesday 11th January 2023
Time: 12:30pm
Service: Mary Mother of Mercy Chapel
        Rookwood General Cemetery
       1 Hawthorne Ave, Rookwood NSW 2141
Sincerely,
The ACTRA Executive Committee
---
---

---
Message from the ACTRA President
Please click on the following link to view a message re COVID-19 from the ACTRA President, Paul Wright:
VIEW MESSAGE
---
Want to be updated about future events?
---
Job Listings
Find the latest information about positions vacant via our new Job Listings page.
View the ACTRA Job Listings Page
---
Membership with ACTRA
The Australasian College of Toxicology and Risk Assessment Inc (ACTRA) has been established since July 2006.
ACTRA aims to:
advance the study and applications of toxicology and health risk assessment as professional scientific disciplines, and
cultivate (and maintain) the highest standards of professional practice and ethics in persons engaged in the sciences of toxicology and health risk assessment.
Membership of ACTRA is open to those working in the fields of toxicology and risk assessment. All members receive electronic newsletters and subsidised meeting or workshop registration fees.
View the ACTRA Membership page.
---
Registration with ACTRA
An important objective in establishing ACTRA was to initiate a process whereby the professional standing and credentials of Australian and New Zealand toxicologists and health risk assessors (HRAs) could receive some type of formal, peer-reviewed recognition. In furtherance of this objective, ACTRA has established a professional Register of Toxicologists and HRAs.