The Australasian College of
Toxicology & Risk Assessment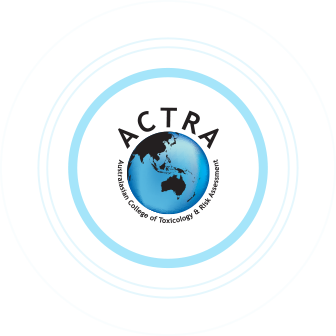 ACTRA Webinar Series with Q&A
Session #3 – Thursday 6 August, 2020
Presented by Professor Brian Priestly, M.Pharm, PhD, FACTRA and past ACTRA president.
TOPIC: Environmental regulation and guidance
FORMAT: 20-30 minute presentation followed by a 20-30 minute Q&A session
DATE & TIME
Thursday 6 August, 2020
3pm – 4pm AEST
FEES (incl GST)
ACTRA Members – $25
Non-Members – $50
Student members – $15
Organisation – $200 (maximum of 10 log ons)
REGISTRATION DEADLINE
By 3pm, AEST, Wednesday 5 August 2020 (limited spots available).
CPD POINTS (For ACTRA Registration Scheme)
1 CPD Point per session.
---
Message from the ACTRA President
Please click on the following link to view a message re COVID-19 from the ACTRA President, Paul Wright:
VIEW MESSAGE
---

13th Annual Scientific Meeting and Continuing Education Day
Due to the COVID 19 outbreak, this event has been postponed to August 2021.
The program will focus on the advances in assessment and understanding of petroleum toxicology, neurotoxicology and their application in risk assessment.
Further information coming soon.
---
Want to be updated about future events?
---
Job Listings
Find the latest information about positions vacant via our new Job Listings page.
View the ACTRA Job Listings Page
---
Membership with ACTRA
The Australasian College of Toxicology and Risk Assessment Inc (ACTRA) has been established since July 2006.
ACTRA aims to:
advance the study and applications of toxicology and health risk assessment as professional scientific disciplines, and
cultivate (and maintain) the highest standards of professional practice and ethics in persons engaged in the sciences of toxicology and health risk assessment.
Membership of ACTRA is open to those working in the fields of toxicology and risk assessment. All members receive electronic newsletters and subsidised meeting or workshop registration fees.
View the ACTRA Membership page.
---
Registration with ACTRA
An important objective in establishing ACTRA was to initiate a process whereby the professional standing and credentials of Australian and New Zealand toxicologists and health risk assessors (HRAs) could receive some type of formal, peer-reviewed recognition. In furtherance of this objective, ACTRA has established a professional Register of Toxicologists and HRAs.