The Australasian College of
Toxicology & Risk Assessment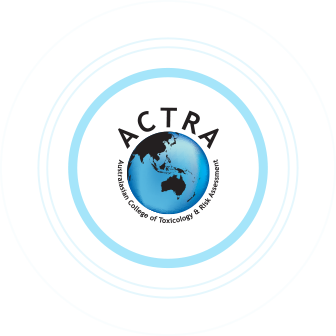 Annual Scientific Meeting & Continuing Education Day 2018
Registrations are now open for the 11th Annual ACTRA Annual Scientific Meeting and Continuing Education Day 2018, to be held in Perth, Western Australia. Group and student discounts are available. Applications are now open for the Student Travel Grants and Call for Abstracts.
Student Travel Grant Applications – Deadline 31 May 2018
ACTRA is offering a number of travel grants for students to attend this year's Annual Scientific Meeting (ASM). Click here for more information.
Call for Abstracts – Deadline 29 June 2018
Although topics directly related to the ASM theme What's the Matter? Toxicity and Health Effects of Particulates – Size or Composition are preferred, abstracts relating to or dealing with toxicology and/or risk assessment are most welcome. Download the Call for Abstracts Flyer here.
Express Group Discount – Deadline 30 June 2018
Register a group before the end of the financial year and save $60.00 per person by using the discount code: EXPRESSASM 
For further information and program details, visit the Annual Scientific Meeting Website.
---
Membership with ACTRA
The Australasian College of Toxicology and Risk Assessment Inc (ACTRA) has been established since July 2006.
ACTRA aims to:
advance the study and applications of toxicology and health risk assessment as professional scientific disciplines, and
cultivate (and maintain) the highest standards of professional practice and ethics in persons engaged in the sciences of toxicology and health risk assessment.
Membership of ACTRA is open to those working in the fields of toxicology and risk assessment. All members receive electronic newsletters and subsidised meeting or workshop registration fees. View the ACTRA Membership page.
---
Registration with ACTRA
An important objective in establishing ACTRA was to initiate a process whereby the professional standing and credentials of Australian and New Zealand toxicologists and health risk assessors (HRAs) could receive some type of formal, peer-reviewed recognition. In furtherance of this objective, ACTRA has established a professional Register of Toxicologists and HRAs. View ACTRA Registration page.