The Australasian College of
Toxicology & Risk Assessment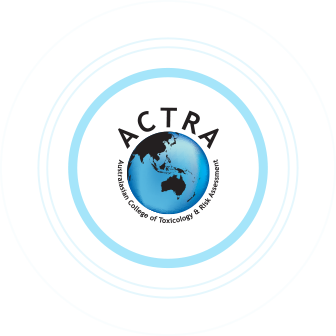 Join the Australasian College of Toxicology & Risk Assessment (ACTRA) in a unique webinar series that commenced in June 2020! The webinar series will cover two overarching themes in relation to toxicology and risk assessment in Australia:
Lessons learnt from case studies.
Practical applications of theoretical concepts.
These sessions will provide you with an opportunity to gain insight from Australia's most accomplished and experienced toxicologists and risk assessors, and more importantly encourage an open forum for questions and discussion.
Attending webinars counts towards your continuing education credit points at the rate of one point per webinar.
If you're new to the ACTRA webinar series here is a taste of what to expect:
Watch Webinar
---
ACTRA is pleased to present this webinar series on "Food from contaminated environments" by Katie Richardson, starting on 5 May 2022.
Food from contaminated environments: assessment and management of risk
Where contaminants with the potential to bioaccumulate are present in the environment, there is the potential for people and/or wildlife to be exposed via pathways of food consumption. These pathways are of particular importance where contamination is present in rural areas (where significant agricultural activities may occur, and where significant ecosystems may be present), and in residential back yards (where exposure may occur to home grown produce or chicken eggs).
Undertaking risk assessment of these pathways is relatively complex, as it requires assessment of contaminant uptake and bioaccumulation processes, and/or biota analysis (which can be costly and comes with its own complexities around undertaking sufficient analysis to support all potential exposure pathways). It is also necessary to estimate food consumption rates for both human and ecological receptors to provide a meaningful estimate of risk.
This series of webinars discusses available screening tools, together with approaches for further risk assessment (supported by case study information). The series aims to provide attendees with a framework for thinking through the exposure pathways that should be considered, and a toolkit for approaching both assessment and management of human health and ecological risks for contaminants which may bioaccumulate through the food chain.
Session 1: Human Health Screening Approaches
Which contaminants do we consider, and who might be exposed?
Available Australian screening levels which incorporate a pathway of home produce consumption, including the NEPM Health Investigation Levels (HILs) and the HILs for poly-fluoroalkyl substances (PFAS).
Guidance on organochlorine pesticides (OCPs) and backyard chickens.
Extending screening approaches (e.g. for greater consumption rates, or for other pathways).
Session 2: Human Health Risk Assessment Approaches
Modelling uptake into fruits, vegetables, livestock and aquatic foods (with case study examples).
The role of biota sampling in risk assessment, including approaches for dealing with variable concentrations.
Risk management approaches and options.
Session 3: Ecological Risk Assessment Approaches
Following on from the first sessions (which focussed on human health) this session covers screening approaches and further risk assessment for contaminants which can bioaccumulate through the ecological food chain (with case study examples).
Aquatic ecosystems: screening approaches, and further assessment through modelling uptake, and measured concentrations (with case study examples).
Terrestrial ecosystems: screening approaches, and further assessment through modelling uptake, and measured concentrations (with case study examples).
Risk management approaches: considerations on when to cease assessment and move to management; management options and limitations.
About the Presenter
Katie Richardson is an ACTRA Registrant, and Senversa's National Risk assessment practice leader. She has over 18 years of experience undertaking human health and ecological risk assessments. She started her risk assessor life in the UK modelling vapour intrusion and groundwater transport for large portfolios of petroleum filling stations, and since moving to Australia in 2008 has worked on a wide variety of contaminated land sites, including industrial and government facilities, petroleum sites, mines and linear infrastructure.
She has extensive recent experience with PFAS risk assessment and has particular expertise in the development of pragmatic assessment and management strategies. This includes work for major Defence, Airport and industry sites, including sites in remote locations and sites where complex exposure pathways (into foodstuffs and through the ecosystem) require efficient and pragmatic assessment.
Katie particularly enjoys pulling in risk assessment thinking from the earliest phases of a project to develop an efficient strategy for closing out issues. A pragmatic strategy to answer the key questions at the start can save a lot of unnecessary work.
Outside of work, Katie is a keen singer, and a member of a number of Melbourne chamber choirs. She's sad that COVID means it's over 2 years since she sang in a concert!
---
FEES per webinar (incl. GST)
ACTRA Members – $25
Non-Members – $50
Student members – $15
Organisation – $200 (maximum of 10 log ons)
REGISTER HERE
REGISTRATION DEADLINE
24 hours prior to each webinar.
CPD POINTS (For ACTRA Registration Scheme)
Earn up to 1 CPD Point per session.
---
UPCOMING WEBINARS
ACTRA Webinar Series with Q&A – Session #22
Topic: Ecological Risk Assessment Approaches
Date: Thursday 7th July 2022
3:00PM – 4:00PM AEST (Melb/Syd time)
Presenter: Katie Richardson
REGISTER HERE
---
PAST WEBINARS
ACTRA Webinar Series with Q&A – Session #21
Topic: Human Health Risk Assessment Approaches
Date: Thursday 2nd June 2022
3:00PM – 4:00PM AEST (Melb/Syd time)
Presenter: Katie Richardson

ACTRA Webinar Series with Q&A – Session #20
Topic: Human Health Screening Approaches
Date: Thursday 5th May 2022
3:00PM – 4:00PM AEST (Melb/Syd time)
Presenter: Katie Richardson

ACTRA Webinar Series with Q&A – Session #19
Topic: Exposure Science tools and case studies (Session 2)
Date: Thursday 7 April 2022
Time: 3:00PM – 4:00PM AEST (Melb/Syd time)
Presenter: Dr Len Turczynowicz

ACTRA Webinar Series with Q&A – Session #18
Topic: An introduction to Exposure Science (Session 1)
Date: Thursday 3 March 2022
Time: 3:00PM – 4:00PM AEDT (Melb/Syd time)
Presenter: Dr Len Turczynowicz
ACTRA Webinar Series with Q&A – Session #17
Topic: Risk assessment – Remember, Exposure is Important!
Thursday 4 November, 2021
3:00PM – 4:00PM AEST (Melb/Syd time)
Presenter: Dr Jackie Wright
ACTRA Webinar Series with Q&A – Session #16
Topic: The Chicken, the Egg and the Holy Grail – Serum PFAS Levels Following Access to Cholestyramine, Plasma Donation or a Combination of Cholestyramine and Plasma Donation
Thursday 7 October, 2021
3:00PM – 4:00PM AEST (Melb/Syd time)
Presenter: Dr Ian Delaere
ACTRA Webinar Series with Q&A – Session #15
Topic: Risk assessment of emerging contaminants – Theory and Practice
Thursday 9 September, 2021
3:00PM – 4:00PM AEST (Melb/Syd time)
Presenter: Victora Lazenby
ACTRA Webinar Series with Q&A – Session #14
Topic: An Introduction to Biomarkers of Lower Urinary Tract Toxicity Plus Case Study
Thursday 5 August, 2021
Presenter: Dr Rhian Cope
ACTRA Webinar Series with Q&A – Session #13
Topic: An Introduction to Biomarkers of Renal Toxicity Part 1
Thursday 1 July, 2021
Presenter: Dr Rhian Cope
ACTRA Webinar Series with Q&A – Session #12
Topic: An Introduction to Biomarkers of Hepatotoxicity Part 2
Thursday 3 June, 2021
Presenter: Dr Rhian Cope

ACTRA Webinar Series with Q&A – Session #11
Topic: An Introduction to Biomarkers of Hepatotoxicity Part 1
Thursday 6 May, 2021
Presenter: Dr Rhian Cope

ACTRA Webinar Series with Q&A – Session #10
Topic: Bioavailability – Case studies and worked examples
Thursday 8 April, 2021
Presenter: John Frangos
ACTRA Webinar Series with Q&A – Session #9
Topic: Key concepts of Bioavailability
Thursday 4 March, 2021
Presenter: John Frangos
ACTRA Webinar Series with Q&A – Session #8
Topic: Dose Response Assessment within standard setting and HHRA
Thursday 4 February, 2021
Presenter: John Frangos
ACTRA Webinar Series with Q&A – Session #7
Topic: Application of TTC in Risk Assessment
Thursday 3 December, 2020
Presenter: Roger Drew
ACTRA Webinar Series with Q&A – Session #6
Topic: History and Derivation of TTC Values
Thursday 5 November, 2020
Presenter: Roger Drew
ACTRA Webinar Series with Q&A – Session #5
Topic: Aspects of Risk Communication
Thursday 1 October, 2020
Presenter: Dr Peter N Di Marco

ACTRA Webinar Series with Q&A – Session #4
Topic: Principles of Human Health Risk Assessment
Thursday 3 September, 2020
Presenter: John Frangos

ACTRA Webinar Series with Q&A – Session #3
Topic: Environmental regulation and guidance
Thursday 6 August, 2020
Presenter: Professor Brian Priestly

ACTRA Webinar Series with Q&A – Session #2
Topic: Product based regulation
Thursday 9 July, 2020
Presenter: Professor Brian Priestly

ACTRA Webinar Series with Q&A – Session #1
Topic: Substance and/or process-based regulation
Thursday 11 June, 2020
Presenter: Professor Brian Priestly