The Australasian College of
Toxicology & Risk Assessment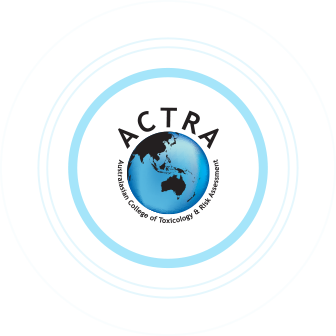 Join the Australasian College of Toxicology & Risk Assessment (ACTRA) in a unique webinar series that commenced in June 2020! The webinar series will cover two overarching themes in relation to toxicology and risk assessment in Australia:
Lessons learnt from case studies.
Practical applications of theoretical concepts.
These sessions will provide you with an opportunity to gain insight from Australia's most accomplished and experienced toxicologists and risk assessors, and more importantly encourage an open forum for questions and discussion.
Attending webinars counts towards your continuing education credit points at the rate of one point per webinar.
If you're new to the ACTRA webinar series here is a taste of what to expect:
Watch Webinar
---
UPCOMING WEBINARS
ACTRA Webinar Series with Q&A – Session #23
Topic: "So many issues, so little time: the lost art of risk ranking"
Date: Thursday 6th October 2022
3:00PM – 4:00PM AEDT (Melb/Syd time)
Presenter: Victor Kabay
REGISTER HERE
---
ACTRA is pleased to present this webinar on "So many issues, so little time: the lost art of risk ranking" by Victor Kabay, on 6 October 2022.

So many issues, so little time: the lost art of risk ranking
In a busy world with limited time and resources, we often need to make a call on which issues should be prioritised ahead of others based on the risk they pose. You may be up against thousands of chemicals that need to be assessed; a multitude of land parcels that may be contaminated; or a whole range of pollution emission sources that need to be controlled. How does one decide which ones should be addressed first?
While conventional risk assessment is generally governed by robust methods, "risk ranking" is often carried out in a more arbitrary way, with little to no published guidance. This session will aim to rectify this by presenting a robust set of methods that could be applied to just about any situation when hazards need to be ranked. Attendees will be provided with a clear approach that they can use as part of their day-to-day work.
This session is equally suited to specialists in the public sector who need to rank issues for policy-setting or regulatory purposes; academic researchers who need to identify areas of research of greatest impact; consultants with clients who are looking for solutions to efficiently deal with large groups of hazards; and anyone else who could benefit from a more robust method to prioritise risks.
This session will cover the following:
Avoiding the pitfalls of poor risk-ranking: planning is key.
Selecting the right risk attributes, weightings and all other factors.
Understanding your audience: who are the decision-makers that will use your risk ranking.
Interpreting findings. Just because there is a result doesn't mean it is right.
About the Presenter
Victor Kabay is an ACTRA Registrant and has worked as a risk assessor and risk manager for almost 20 years in consulting, academia, the public service and most recently as national Environment Business Partner at Cleanaway Waste Services. He holds a PhD in environmental risk management from the University of Melbourne and worked as a risk assessor in consulting for about 8 years, specialising in contaminated land and air quality risk assessments. He then worked for the Victorian Environment Protection Authority for 5 years as Principal (Environmental Public Health). In this role he experienced first-hand the complex risk-based decisions faced by an environmental regulator and the need for pragmatic and evidence-based methods to inform those decisions. This prompted him to write a chapter in Human and Ecological Risk Assessment – Theory and Practice (by internationally renowned risk assessor Dennis Paustenbach), which is currently in press and due to be published in the coming months. This book chapter forms the basis of much of the content in this seminar.
DATE & TIME
Thursday 6 October 2022
3pm – 4pm AEDT
FEES PER SESSION (incl. GST)
ACTRA Members – $25
Non-Members – $50
Student members – $15
Organisation – $200 (maximum of 10 log ons)
REGISTER HERE
REGISTRATION DEADLINE
By 3 pm, AEDT, Wednesday 5 October 2022
CPD POINTS (For ACTRA Registration Scheme)
Earn up to 1 CPD Point per session.
Level of previous experience required:
Basic to intermediate
---
PAST WEBINARS
ACTRA Webinar Series with Q&A – Session #22
Topic: Ecological Risk Assessment Approaches
Date: Thursday 7th July 2022
3:00PM – 4:00PM AEST (Melb/Syd time)
Presenter: Katie Richardson

ACTRA Webinar Series with Q&A – Session #21
Topic: Human Health Risk Assessment Approaches
Date: Thursday 2nd June 2022
3:00PM – 4:00PM AEST (Melb/Syd time)
Presenter: Katie Richardson

ACTRA Webinar Series with Q&A – Session #20
Topic: Human Health Screening Approaches
Date: Thursday 5th May 2022
3:00PM – 4:00PM AEST (Melb/Syd time)
Presenter: Katie Richardson

ACTRA Webinar Series with Q&A – Session #19
Topic: Exposure Science tools and case studies (Session 2)
Date: Thursday 7 April 2022
Time: 3:00PM – 4:00PM AEST (Melb/Syd time)
Presenter: Dr Len Turczynowicz

ACTRA Webinar Series with Q&A – Session #18
Topic: An introduction to Exposure Science (Session 1)
Date: Thursday 3 March 2022
Time: 3:00PM – 4:00PM AEDT (Melb/Syd time)
Presenter: Dr Len Turczynowicz
ACTRA Webinar Series with Q&A – Session #17
Topic: Risk assessment – Remember, Exposure is Important!
Thursday 4 November, 2021
3:00PM – 4:00PM AEST (Melb/Syd time)
Presenter: Dr Jackie Wright
ACTRA Webinar Series with Q&A – Session #16
Topic: The Chicken, the Egg and the Holy Grail – Serum PFAS Levels Following Access to Cholestyramine, Plasma Donation or a Combination of Cholestyramine and Plasma Donation
Thursday 7 October, 2021
3:00PM – 4:00PM AEST (Melb/Syd time)
Presenter: Dr Ian Delaere
ACTRA Webinar Series with Q&A – Session #15
Topic: Risk assessment of emerging contaminants – Theory and Practice
Thursday 9 September, 2021
3:00PM – 4:00PM AEST (Melb/Syd time)
Presenter: Victora Lazenby
ACTRA Webinar Series with Q&A – Session #14
Topic: An Introduction to Biomarkers of Lower Urinary Tract Toxicity Plus Case Study
Thursday 5 August, 2021
Presenter: Dr Rhian Cope
ACTRA Webinar Series with Q&A – Session #13
Topic: An Introduction to Biomarkers of Renal Toxicity Part 1
Thursday 1 July, 2021
Presenter: Dr Rhian Cope
ACTRA Webinar Series with Q&A – Session #12
Topic: An Introduction to Biomarkers of Hepatotoxicity Part 2
Thursday 3 June, 2021
Presenter: Dr Rhian Cope

ACTRA Webinar Series with Q&A – Session #11
Topic: An Introduction to Biomarkers of Hepatotoxicity Part 1
Thursday 6 May, 2021
Presenter: Dr Rhian Cope

ACTRA Webinar Series with Q&A – Session #10
Topic: Bioavailability – Case studies and worked examples
Thursday 8 April, 2021
Presenter: John Frangos
ACTRA Webinar Series with Q&A – Session #9
Topic: Key concepts of Bioavailability
Thursday 4 March, 2021
Presenter: John Frangos
ACTRA Webinar Series with Q&A – Session #8
Topic: Dose Response Assessment within standard setting and HHRA
Thursday 4 February, 2021
Presenter: John Frangos
ACTRA Webinar Series with Q&A – Session #7
Topic: Application of TTC in Risk Assessment
Thursday 3 December, 2020
Presenter: Roger Drew
ACTRA Webinar Series with Q&A – Session #6
Topic: History and Derivation of TTC Values
Thursday 5 November, 2020
Presenter: Roger Drew
ACTRA Webinar Series with Q&A – Session #5
Topic: Aspects of Risk Communication
Thursday 1 October, 2020
Presenter: Dr Peter N Di Marco

ACTRA Webinar Series with Q&A – Session #4
Topic: Principles of Human Health Risk Assessment
Thursday 3 September, 2020
Presenter: John Frangos

ACTRA Webinar Series with Q&A – Session #3
Topic: Environmental regulation and guidance
Thursday 6 August, 2020
Presenter: Professor Brian Priestly

ACTRA Webinar Series with Q&A – Session #2
Topic: Product based regulation
Thursday 9 July, 2020
Presenter: Professor Brian Priestly

ACTRA Webinar Series with Q&A – Session #1
Topic: Substance and/or process-based regulation
Thursday 11 June, 2020
Presenter: Professor Brian Priestly