The Australasian College of
Toxicology & Risk Assessment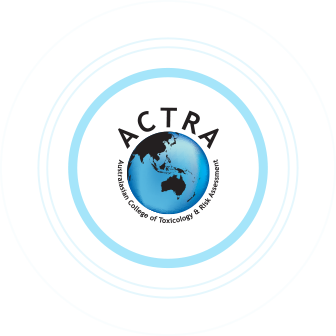 The ACTRA Professional Register
Level of Registration
Description
Fellow
Highest Professional Grade in the field of toxicology
and/or risk assessment
Registered member
Competent professional in the field of toxicology
and/or risk assessment
Registrants of ACTRA are required to have an acceptable education leading to an appropriate qualification together with any additional training required to achieve the necessary competence to practice their profession.
Members of ACTRA are governed by its Code of Ethics. In addition, Registrants are governed by its Code of Professional Conduct. Registrants will be expected to observe these standards.
Any Registrant found not to meet these requirements may be removed from the Register, and this removal may be made public.
Inclusion in the Register, exclusion or removal from it will be decided by a Registration Panel. In the event of proposed removal from the Register a minimum of one month's notice will be given to provide an opportunity for personal representation, or through a representative, to the Registration Panel. Such disciplinary action is governed by a ByLaw dealing with complaints and disciplinary proceedings.
All registrants and Fellows of ACTRA , other than Honorary Fellows of ACTRA are required to remain financial members of ACTRA and to pay an annual retention fee of $25.00 which may be varied from time to time by the registrar. The registration or fellowship will require to be renewed after 5 years subject to the provisions of the ACTRA bylaws and includes a fee of $300.00.
Summary of ACTRA Registrants
(in alphabetical order)
The information displayed comprises a summary of information provided by each Registrant and reviewed by ACTRA. Users of the ACTRA Register are advised to seek further details from individual Registrants regarding their experience as appropriate. Details of registration requirements can be viewed on this website.