The Australasian College of
Toxicology & Risk Assessment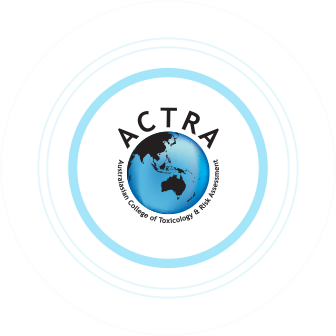 9th Annual Scientific Meeting & Continuing Education Day
The 9th ACTRA Annual Scientific Meeting will be held Thursday 22 September and Friday 23 September 2016 in Adelaide at Ayers House, North Terrace. Early Bird Registration closes 12 August. To register to attend visit the ASM registration page.
In conjunction with the Annual Scientific Meeting in September, ACTRA will be holding two CE sessions on Wednesday 21 September 2016 in replacement of the ACTRA Workshop. You are welcome to come to one or all sessions and will receive a discounted rate if you attend as a full ASM delegate. View more
ACTRA would like to thank the following sponsors for supporting this years ASM: Sumitomo Chemical (Gold Sponsor), Golder Associates (Silver Sponso), ToxConsult (Bronze Sponsor), Society of Toxicology (Other Sponsor) and Benchmark Toxicology (Student Prize Sponsor)
CE Courses – Member Benefit
We have launched a new webpage on the member's only section of our website. It provides you with a list of relevant continuing education (CE) courses offered throughout the year by ACTRA and other organisations. CE courses are a great way to keep your skills current, and many can count towards your continuing education requirements under the ACTRA registration scheme. If you're looking for some continuing education options that you can access online in the comfort of your home, or looking for face-to-face learning in Australia or New Zealand, this webpage is for you. View the Continuing Education page.
Membership with ACTRA
The Australasian College of Toxicology and Risk Assessment Inc (ACTRA) has been established since July 2006.
ACTRA aims to:
advance the study and applications of toxicology and health risk assessment as professional scientific disciplines, and
cultivate (and maintain) the highest standards of professional practice and ethics in persons engaged in the sciences of toxicology and health risk assessment.
Membership of ACTRA is open to those working in the fields of toxicology and risk assessment. All members receive electronic newsletters and subsidised meeting or workshop registration fees. View the ACTRA Membership page.
Registration with ACTRA
An important objective in establishing ACTRA was to initiate a process whereby the professional standing and credentials of Australian and New Zealand toxicologists and health risk assessors (HRAs) could receive some type of formal, peer-reviewed recognition. In furtherance of this objective, ACTRA has established a professional Register of Toxicologists and HRAs. View ACTRA Registration page.